Regular price
$109.85 USD
Sale price
$87.88 USD
Unit price
per
Sale
Sold out
Share
Benefits

Biomen:

- Stimulate and aid in the production of testosterone
- Maintain and restore your sexual potency- Detoxify the kidneys and liver of estrogen and toxins
- Total prostate health
- Sense of well-being
- Stimulate and maintain muscle growth
- Boost energy and endurance

Collagen Flex Tabs:

- Rejuvenate the skin, nails, and hair
- Promote muscular and joint elasticity
- Lessen joint and bone discomfort
- Regenerate damaged tissue
- Anti-Inflammatory properties

Neuro-Life:

- Improve and boost memory
- Nourish the nervous system
- Reduce stress
- Improve mood
- Repair brain cells
- Boost mental clarity
Ingredients

Biomen:

Tribulus Terrestris: Known and researched for its properties to detoxify, boost libido and testosterone.

Horny Goat Weed: Studies have shown its effectiveness for erectile dysfunction, libido, and good circulation.

Korean Ginseng: Called "the wonder root" used to stimulate testosterone and sexual desire, prostate health, and diabetes.

Damiana: Sexual stimulant, helps prostate health and decreased prostate specific antigen (PSA). Acts as a natural anti-depressant.

Turmeric: Helps reduce estrogen levels in the liver. Used to assist in diabetes, increases blood flow, and supports weight management.

Nettle Root (Nettle): Can help reduce the symptoms of benign prostatic hyperplasia. A University of Maryland Medicine study found that nettle can alleviate reduced urinary flow, the constant need to urinate, and the inability to empty the bladder completely. All conditions are associated with an enlarged prostate.

DHEA: Known for its anti-aging properties, DHEA is necessary for the production of testosterone and other hormones in men. May help with obesity and skin.

Gaba: Can increase levels of human growth hormone (HGH), and also known as a natural anti-depressant.

Siberian Ginseng: Widely regarded as an "adaptogen" it may prevent stress-related fluctuations in sleep, mood, appetite, and sexual response.

DIM and Calcium D-Glucarate: Helps discard toxic estrogen from the body and promotes healthy estrogen metabolism, which is crucial to the health of the prostate and disposal of abnormal hormones.

Lycopene: A number of studies have shown that men who get more lycopene in their diet have a lower risk of prostate cancer and increased energy. May help lower the risk of coronary-heart disease.

Zinc and Magnesium: Necessary for testosterone production and muscle synthesis. Shown to play an important role in prostate health. Some studies suggest that low levels of these minerals increase the risk of prostate cancer.

Saw Palmetto: Naturally boosts testosterone levels by keeping the testosterone molecule free from a carrier protein known as sex hormone binding globulin (SHBG). SHBG prevents testosterone from binding with its specific receptors in muscle cells. By freeing up testosterone from SHBG, you'll experience higher levels of free testosterone in the body, which can induce muscle growth.

Vitamin E: Is not only an antioxidant but it is used by people to enhance their fertility. Particularly beneficial for those with a lower sperm count and people who suffer from low sex drive. Vitamin E boosts testosterone production in the body too.

Red Clover: Has been used as an alternative treatment for a number of conditions because it is rich in isoflavones, a protein found in soybeans. Soy contains high concentrations of the same isoflavones found in red clover and is often cited as a reason why Japanese men rarely get prostate cancer.

Magnesium: Helps regulate cortisol (too much can lead to anxiety), melatonin (essential for sleep), blood pressure, and provides the energy to contract and relax the heart and other muscles. Low magnesium levels can lead to symptoms like exhaustion, irritation, and sleeplessness.

Collagen Flex Tabs:

Biotin: Has been referred to as the "beauty vitamin" for its very important metabolic function, which translates to healthy skin, hair and nails. This water-soluble vitamin is essential for breakdown of fatty acids. Proper breakdown and distribution of these fatty acids translates to healthy skin. This creates a gloss on skin, which protects against water loss and damage from the sun's harmful rays.

Vitamin D-3: Crucial for bone health and required for proper functioning of muscles. This vitamin also possesses anti-inflammatory properties. As a result, it is widely believed that it may play an important role in alleviating joint pain, particularly in cases where the origin of pain is inflammation.

Vitamin E: Prevents inflammation, helps prevent cardiovascular conditions, and helps maintain the health of the skin and eyes.

Vitamin C: Is responsible for creating and maintaining collagen, which is the "glue that holds the body together." Specifically, this antioxidant strengthens blood vessels and gives skin its elasticity and strength.

Hydrolyzed Marine Collagen: Benefits of hydrolyzed collagen include improvements in skin toning and thickening, joint rebuilding, arterial strengthening, and increased energy.

Glucosamine Sulfate: Provides benefits for individuals with osteoarthritis and helps improve mobility and function.

M.S.M.: Improves skin and health of complexion. Improves flexibility. Detoxifies the body. Strengthens hair and nails. Increases energy. Anti-inflammatory.

Curcumin: Problems at joints are often accompanied with severe pain and rapid damage of tissue. Curcumin is proven to have the ability to alleviate such conditions due to its unique analgesic effects. This is carried out by naturally deactivating pain sensitivity mechanism which decreases swelling while protecting tissue from damage.

Chondroitin Sulfate: Several studies in Europe have shown that supplemental chondroitin sulfate is well-absorbed and used by the body to maintain and repair joint cartilage.

Hyaluronic Acid: As we age the viscosity of the joint fluid lessens. Hyaluronic Acid helps to maintain normal joint cushioning. Taken orally, it acts as a joint lubricant in the cartilage concentrated in the knees, hips, and other moving joints for easy, friction-free movement. it is also an essential component of skin that keeps it healthy, supple, hydrated and youthful.

Neuro-Life:

Gotu Kola: Is used for fatigue, depression, psychiatric disorders, Alzheimer's disease, and improving memory and intelligence. Some studies have found that Gotu Kola has properties to reduce anxiety, and the negative effects of fatigue and stress.

L-Carnitine: Is used for a variety of mental disorders including Alzheimer's disease, age-related memory loss, and late-life depression. It is also used for Down syndrome, and poor circulation in the brain.

L-Carnosine: Contains antioxidant properties that protect the brain from the development of dementia and is essential for brain health. It has been shown to protect against neurodegeneration as well as loss of cognitive function and memory. Since it has relatively low reported side effects and a host of protective effects, regular supplementation is highly recommended.

Coenzyme Q-10: Supplementation of Coenzyme Q-10 improves cognitive performance, memory, and exerts neuroprotective effects that might be useful in the treatment of neurodegenerative diseases and migraines. It has been shown to be a memory- restorative in human studies, and its antioxidant activity is about 5,000 times as the effect of vitamin C.

BioVinca Vipocetine: Is reported to have cerebral blood-flow enhancing and neuroprotective effects, and is used as a drug in Eastern Europe for the treatment of cerebrovascular disorders and age-related memory impairment. Promotes healthy memory and enhanced concentration. Has been found to increase blood flow to the brain, and has been shown to improve short-term memory.

Gingko Biloba: Has been used to strengthen cerebral function, combat memory loss, and improve blood circulation to the brain. Gingko may also be helpful for improving normal age-related memory loss, and even for enhancing mental function in younger people.

Korean Ginseng: Enhances memory and improves cognitive abilities making it useful in the treatment of poor concentration, sluggish mental function, poor memory, insomnia, and anxiety. Korean ginseng is incorporated in multivitamins because of its ability to counter the effects of stress on the body, promote brain activity, and prevent excessive production of corticosteroids which helps ward off stress.

Choline: Supports nervous system function. Is an essential nutrient for our brain, liver, and cardiovascular functioning.

DMAE: Improves memory and brain power. Improves mood and energy increases. Used to relieve symptoms of depression. Eliminates age spots.

Huperzia Serrata: Is thought to be beneficial because it causes an increase in the levels of acetylcholine. Acetylcholine is one of the chemicals that our nerves use to communicate in the brain, muscles, and other areas.

Bacopa Monnieri: Contains strong anti-stress and antioxidant properties, promotes memory and concentration and enhances visual processing (great for athletes whose sports require hand-eye coordination).

Citicoline: Reduces oxidative stress. It also prevents excessive inflammatory response in the brain by inhibiting the release of free fatty acids and decreasing blood brain barrier breakdown.

Vitamin B-6: Helps the body turn food into energy. On its own, Vitamin B6 has many other uses that are important to maintaining a healthy body and developing a healthy brain.

Vitamin B-12: Also called cobalamin, is one of 8 B vitamins. All B vitamins help the body convert food (carbohydrates) into fuel (glucose), which is used to produce energy. They also help the nervous system function properly.

Calcium: Is an essential mineral present in all of your body's cells, mostly in your bones and teeth, but in soft tissues as well. You can acquire calcium through foods and nutritional supplements. Your nervous system comprises your brain, spinal cord and peripheral nerves that control body movement and cellular function.
Instructions

Biomen: Take three (3) capsules in the morning.

Collagen Flex Tabs: For adults take two (2) tablets twice a day.

Neuro-Life: Take two (2) capsules daily. In case of headaches, take four (4) capsules every four hours.
View full details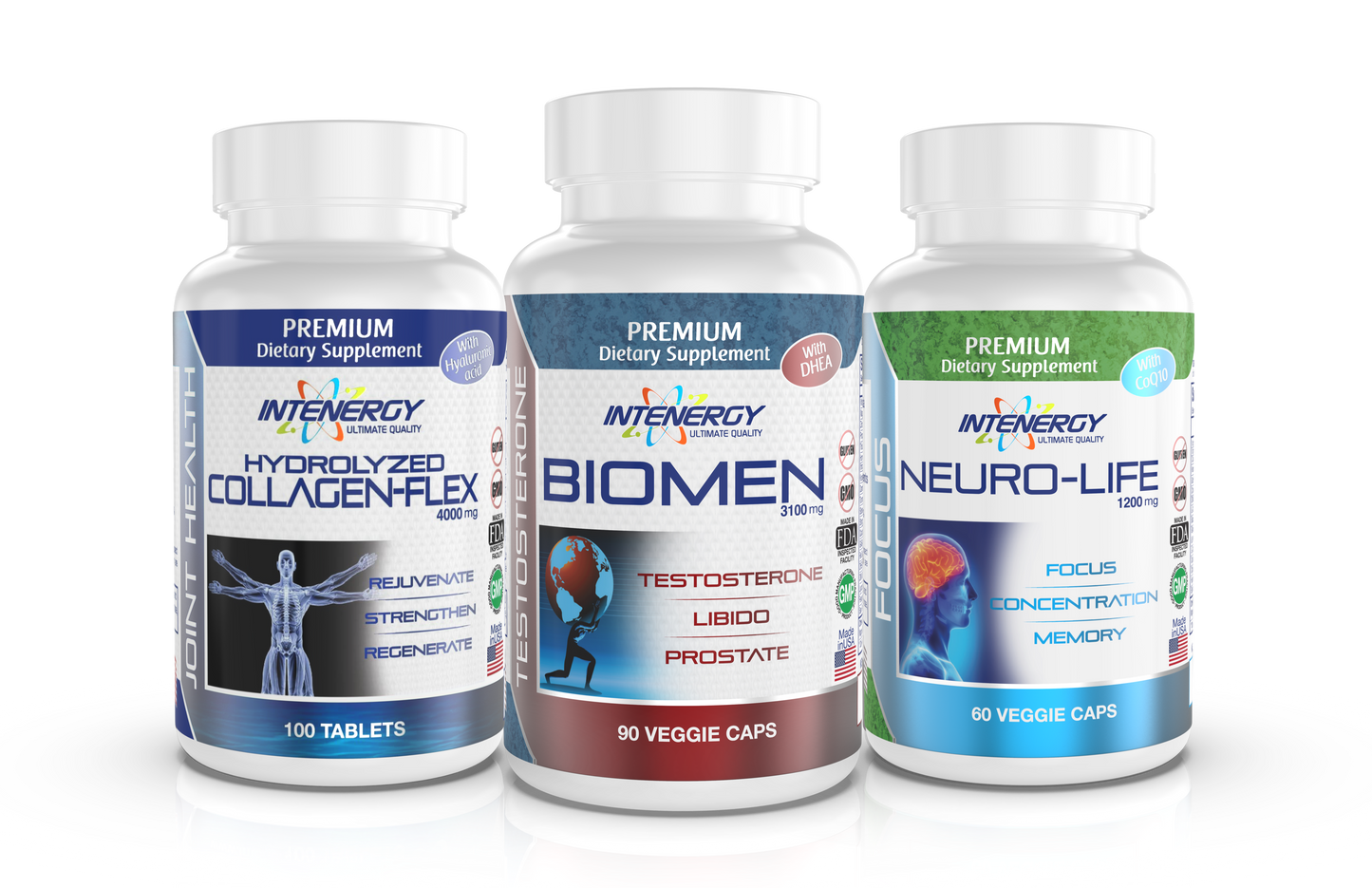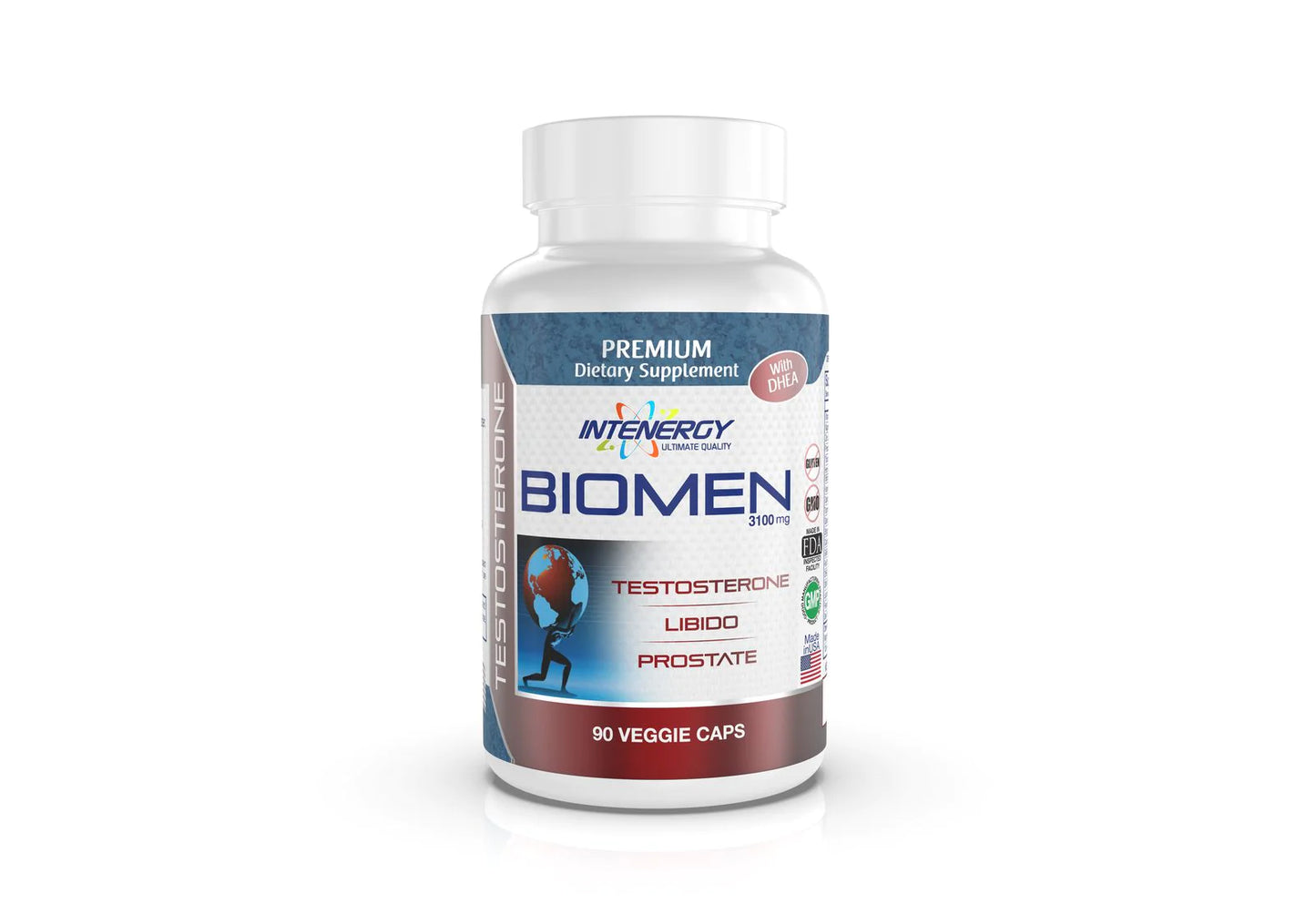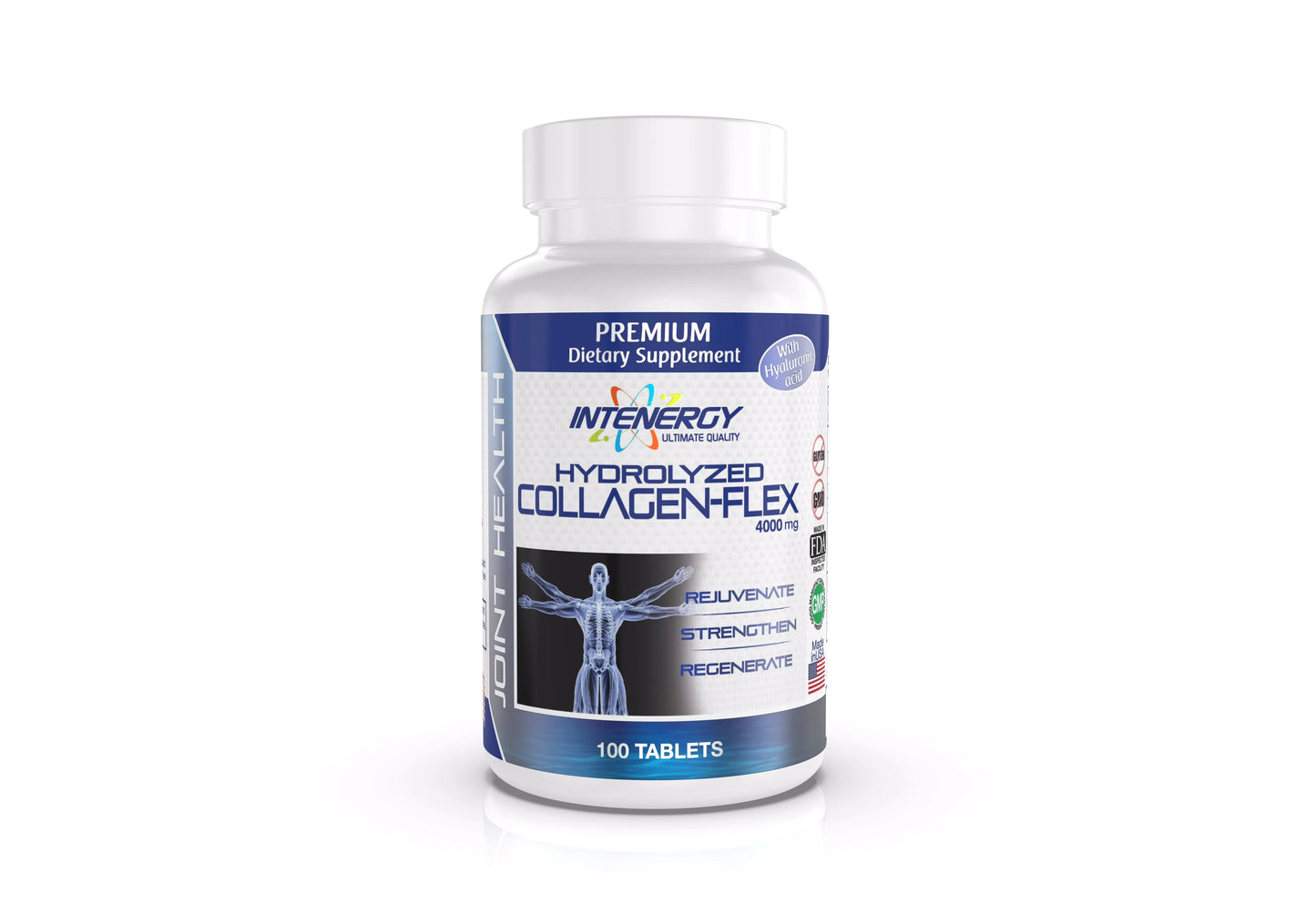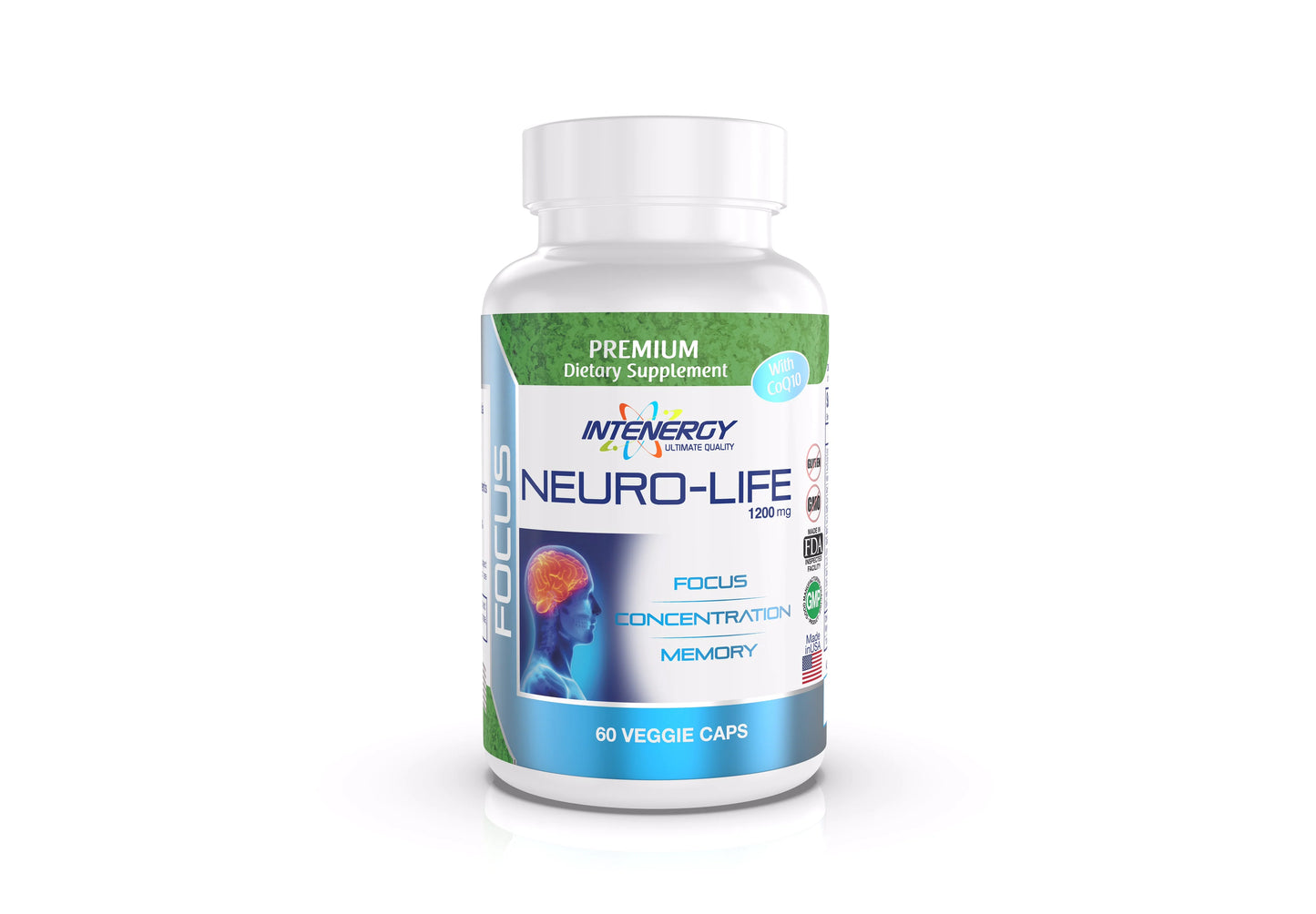 Collapsible content
Production

All Intenergy products are manufactured and packaged in facilities inspected and approved by the U.S. Food & Drug Administration.

Good Manufacturing Practices (GMP) certification for Intenergy products ensures the integrity of the product manufacturing process as well as the compliance with food safety regulations.

Made in the USA.
Shipping

Shop with confidence knowing that your order will ship within 48 hours, so you can start enjoying your new products sooner! And as a bonus, every order includes free promotional gifts, because we believe in giving our customers more value and appreciation.
FAQ

Any questions about products, ingredients, payment, shipping, or orders can be communicated directly to our sales department on our contact page.
The prostate is a small gland located just below the bladder in men. It is an essential part of the male reproductive system and produces a fluid that nourishes and...

The prostate is a small gland located just below the bladder in men. It is an essential part of the male reproductive system and produces a fluid that nourishes and...

Collagen is an essential protein that plays a crucial role in maintaining the structural integrity of our skin, joints, bones, and other tissues. As we age, our body's natural collagen...

Collagen is an essential protein that plays a crucial role in maintaining the structural integrity of our skin, joints, bones, and other tissues. As we age, our body's natural collagen...

Biowomen is a supplement that's specifically formulated to support women's health. Made with natural ingredients, Biowomen has a variety of benefits that can help women feel their best. Here are...

Biowomen is a supplement that's specifically formulated to support women's health. Made with natural ingredients, Biowomen has a variety of benefits that can help women feel their best. Here are...